Hand lettering is so much fun! I love the "drawing" aspect of it and really perfecting letters!!
Today I'm giving you a practice sheet to use which also has a message we all need to write on our hearts: Never Never give up on Jesus!
Grab this hand lettering practice sheet for iPad below!!!
Hand Lettering Practice Sheet for iPad
I know that sometimes it seems we ask and ask for things from the Lord, things that we feel we need instantly, and we have to wait so long for an answer. I know this has happened to me and it's happened to my friends too. It's happened to EVERYONE at one point or another but one thing we always need to remember is that – God's timing is perfect!
Ecclesiastes 3:11 tells us that "He has made everything beautiful in its time." He knows exactly what we need and when we need it. We can rely on Him to take care of us in His perfect timing.
And you know what else?
What God does is permanent!
He tells us in Ecclesiastes 3:14 "I know that whatever God does, it shall be forever. Nothing can be added to it, and nothing taken from it. God does it, that men should fear before Him."
His strength, power, and wisdom know what we need, brings it pass, and never lets anything take is from us. It is forever!
And you can believe that because it comes straight from His Word!
This sheet will help you not only practice your hand lettering, but will also write His Word in your heart and mind so that you will never give up on Him.
And you know what else? If you're a believer, He will never give up on you either!!
There's so much great comfort in knowing that! 🥰
This practice sheet can be used in several apps. If you want to use it in Procreate, with the newer model iPads you can just plug in a pdf but the older models iPads you have to use jpgs. Both formats are provided below to download so that no matter what you use, you're covered. 👏
The pdf download can also be used in notes apps like GoodNotes and Notability. Both of those apps allow you to "write" on the pdf, so practice should be easy.
You can even use these in computer programs like Illustrator. That's where I like to practice my hand lettering personally (but my daughter prefers ProCreate). 😊
Whatever you prefer, these will work for ya!!!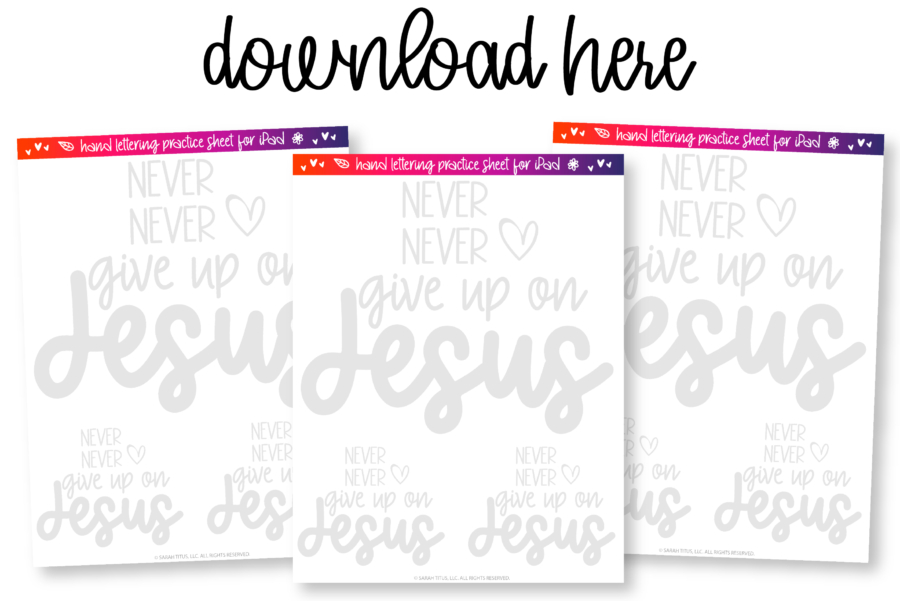 Download the Hand Lettering Practice Sheet for iPad: PDF and JPG