Spiderman, Captain America, Ironman…what do all of these have in common?? Other than being some of our favorite superheroes, they are the inspiration for this amazing printable set for your kids! 😊
Check out these God is my superhero memory game alphabet printables set!
God is My Superhero Memory Game Alphabet Printables For Kids To Play
If you have kids, especially boys, I'm pretty sure you know ALL about the superhero world! 😊
The fun comics, movies, and costumes that come along with these superheroes are awesome and while it's definitely fun for kids to play with the action figures, read comic books, or use printables like these below, one amazing OPPORTUNITY you have in shepherding your child's heart toward Christ is to ask them who's the greatest superhero of all?!
I did this with my son when he was just a little tike (not these printables, but when he was playing with the action figures I believe it was) and when he was 3, he started wanting to become a Pastor. I'm not saying that's directly correlated, but I am saying it gets even the smallest of minds thinking about how awesome and big our God truly IS!
I mean, think about it.
God is invisible
God can read minds
He can teleport
He can fly
He has super strength
He can control the elements
God is a good guy
God is literally all the superhero's rolled into ONE AMAZING superhero!!!! All the other ones just have one power. God has infinite powers.
When you think about it, it's pretty cool! And it's a really great opportunity to talk to your kids about it while playing this game!
With these superhero memory games, you get some super cool superhero inspired letter designs incorporated into a fun learning game for your kids! This helps your kids learn the alphabet, what letters look like, and even encourages learning words & vocab! All at the same time.
This alphabet memory game comes with a fun colorful version as well as a colorable option, so they can color them too!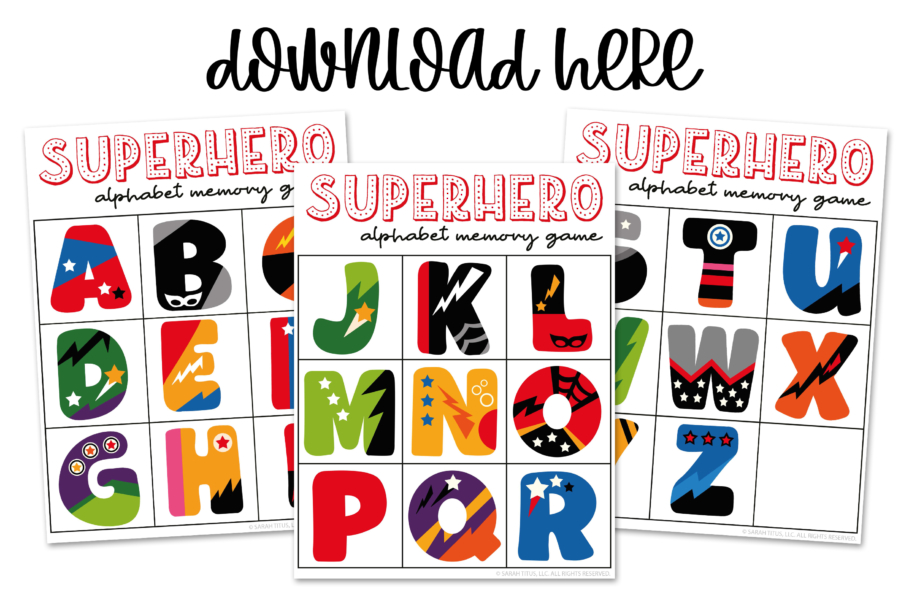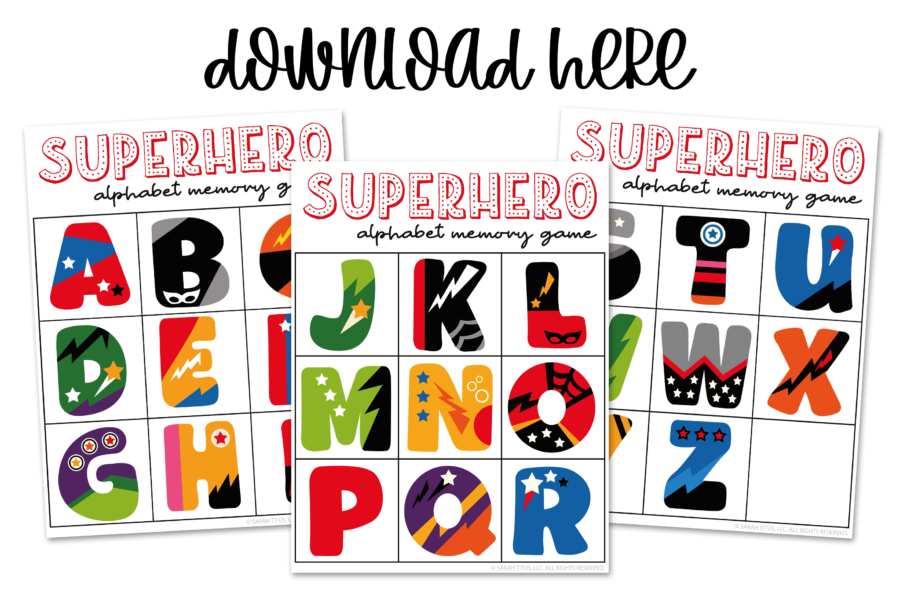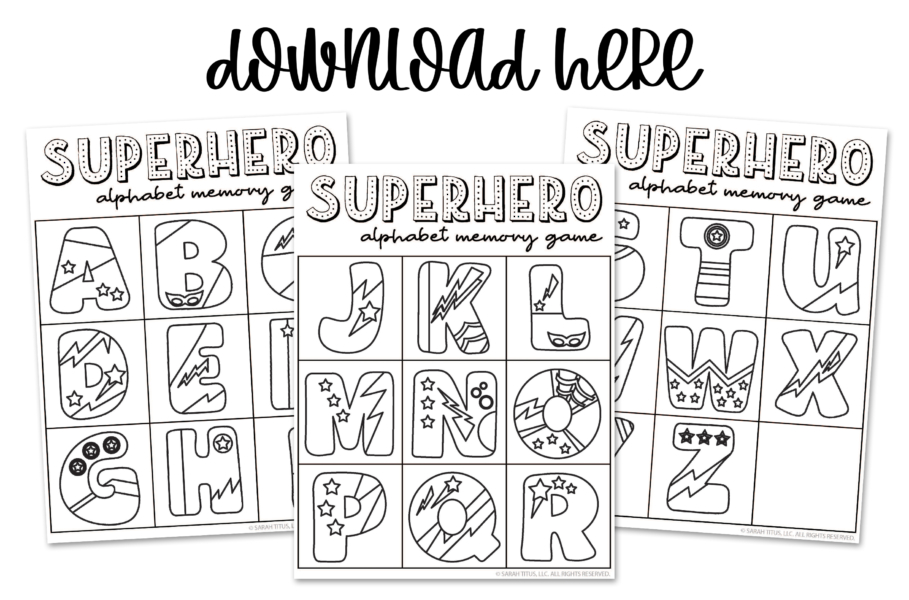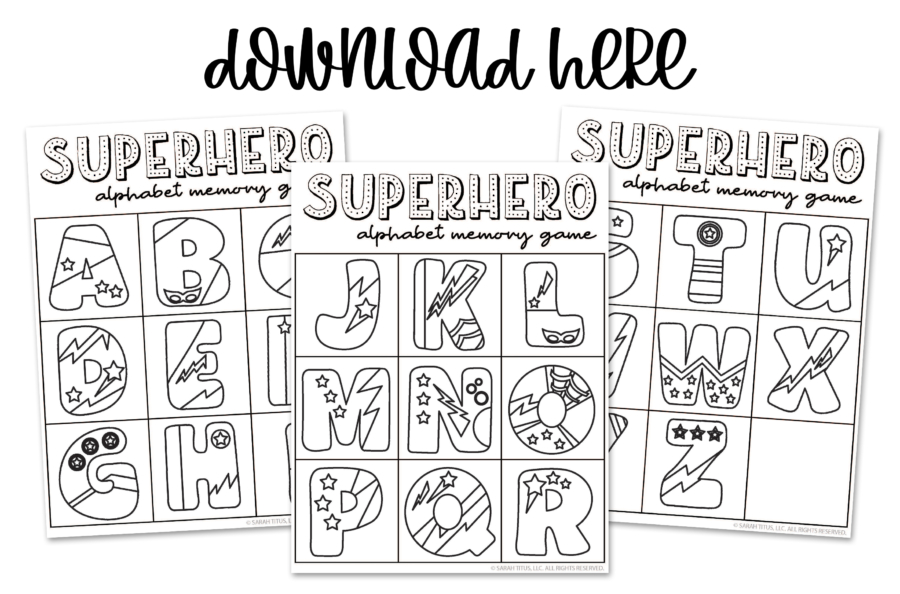 Set-Up Your Memory Game
First, let's get your fun God is my superhero memory game set up!
You'll need:
Quart Ziploc baggies
Scissors
Markers, crayons, colored pencils
Print out either set and cut into squares. If using the colorable one first, let your child color all the letters in – this could be its own fun activity for another day!
Place them in baggies to keep them organized and easy to access for TONS of playtime! Label them "Superhero Memory Game" or whatever you'd like.
Take these easy grab and go baggies and bring them on car rides, doctor's appointments, restaurants, anywhere you may have a small wait.
Different Ways To Play This Game
For younger kids, have them color in (if using the colorable) and teach them the ABCs! Help them learn what each letter looks like and the order that they go in. You could also have them spell out their name with the letters or turn over and let them name each letter before flipping them back and doing a new one!
For older kids, have them put the letters in order and name different things starting with each letter. Have them try and guess which superhero each letter represents (if using the colored in option) or make up their own.
Get crafty
You could make stickers out of these. Or print them as binder covers for kindergarteners. You could make them into labels and label your kids stuff with their initials. There's a lot of different things you can do with these printables!!!
Encourage Fun Superhero Play
Play this game and then help inspire your kiddos to some imaginary play! Talk to them about how amazing God is and while these human characters are cool, they do not compare to the infinite powers that God has. And that same God that has all those powers, loves us all very, very much. So much that he died for us on the cross. It's just such an amazing way to share the gospel, at your church, in Sunday School, at a playground, in classrooms, or with your own kids.
I hope your kiddos love these cool superhero alphabet memory games!