Remember how frustrated you were the last time you missed someone's birthday? Then when you finally made it to the store to purchase a Happy Birthday card, you realized that quality cards with matching gift tags, cost more than the gift!
Of course, you could always DIY a free handmade card, but you know it'll look homemade, and not in a good way.
Worry no more! I have some fun, charming, free printable birthday cards + gift tags & stickers for you!
Perfect:
for kids
for adults
for wife
for husband
for mom
for dad
for friends
for teacher
for son
for daughter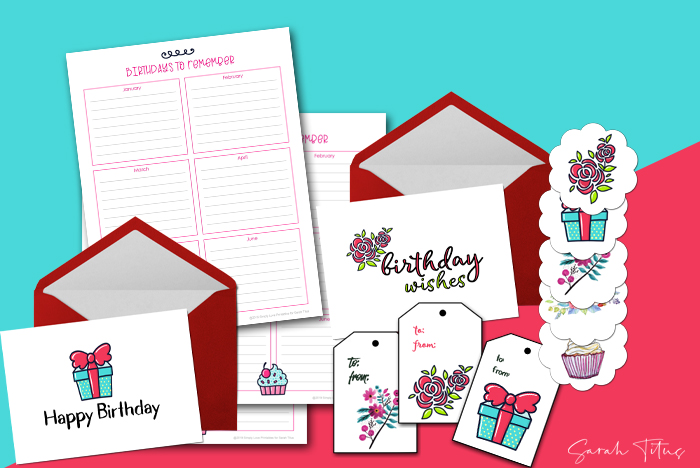 Free Printable Birthday Cards + Gift Tags & Stickers
All those last-minute birthday parties? No problem!
Just for you, I have created a variety of irresistible birthday cards, for all those special someones in your life. My love for watercolor images and eye-catching doodles are found in this 14-card set. The inside of the card is blank, so you can add your own handwritten personal message.
All you need to do for these cards is to print out your favorite choice/choices onto heavy card stock. Then cut along the gray line, either horizontal or vertical, depending on how you want your card to open. Personally, I like horizontal the best. Add your birthday message, and voila… a birthday card all ready to go! YAY!
If you love matching accessories as much as I do, you can also print out coordinating gift tags, stickers, and birthday calendar!
*SIMPLY CLICK THE PICTURES BELOW TO DOWNLOAD THE PDF'S. 🙂

Download the birthday cards here.
Do you need an envelope that fits your cards? For an easy template, click here.
These matching to and from gift tags are a nice addition to compliment your gift. Print on heavy card stock, and then cut along the lines. Next, punch a hole where it's already marked for you, so you can use a ribbon or string to attach it to the gift.
Download the gift tags here.
Need some fun stickers to decorate the back of your envelope? I've got ya covered! Print out the PDF on sticker paper, and cut out your choice of stickers.
Get clear sticker paper here. Get white sticker paper here.
Download the stickers here.
We all can use a little help trying to remember all the birthdays of our loved ones, right? Here's a free birthday calendar printable to remind you throughout the year!
Download the monthly birthday's calendars here.