My daughter is 9. Every time I blink, I swear she grows an inch. It happens so fast guys. So incredibly fast. Before I know it, she'll be off to college, getting married, and starting her own family.
As each day passes, the time with her gets shorter and shorter.
My son is 7 and he's not much further behind.
I don't want to take one second for granted. I don't want to miss out on one moment with them.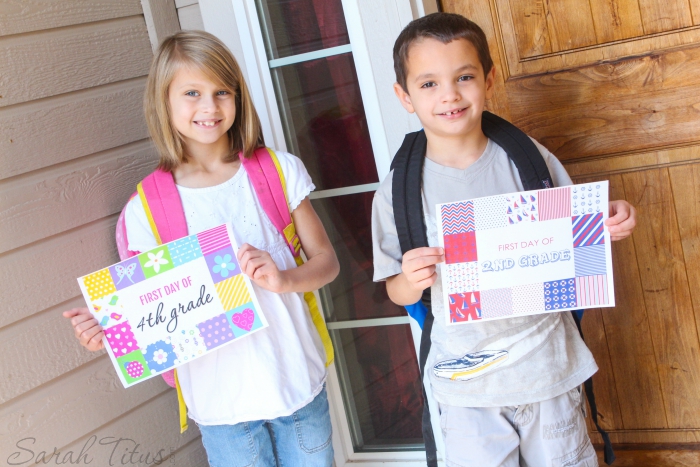 Free First Day of School Printable Signs
A few years back, I started taking pictures of my kids in front of the door as students on their first day of school. At first, it was just this fun thing to do, but now, the more I see how they are growing, the more I realize how precious those moments are.
Seeing them grow and having something to compare those pictures to, makes me all the more thankful that I'm a stay at home mom. That while I can't be there every second of their lives, I am there for as many as I possibly can.
Maybe you're sending your child off to school for the first time to start Kindergarten or Pre-School. Perhaps they are in 6th grade and you're scratching your head, wondering where the time went.
That's why I created these free first day of school printable signs for you. I want you to be able to look back on the memories you create every year, because the time passes so fast.
If you would like to download or print any of these PDF sheets…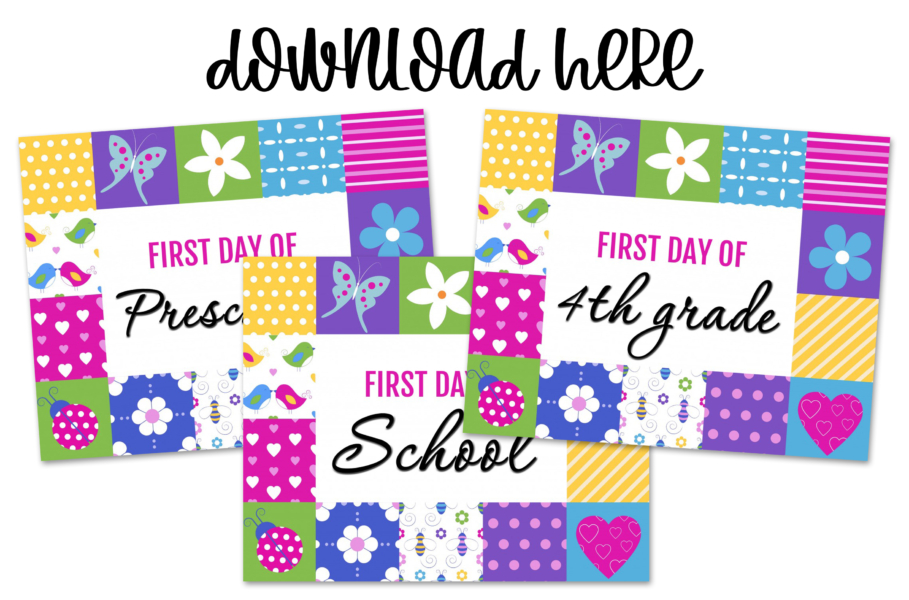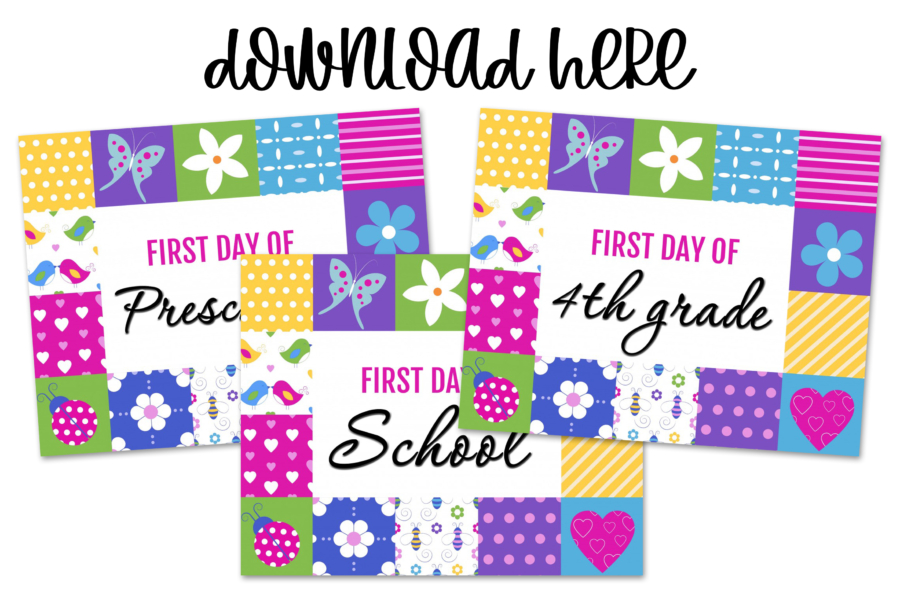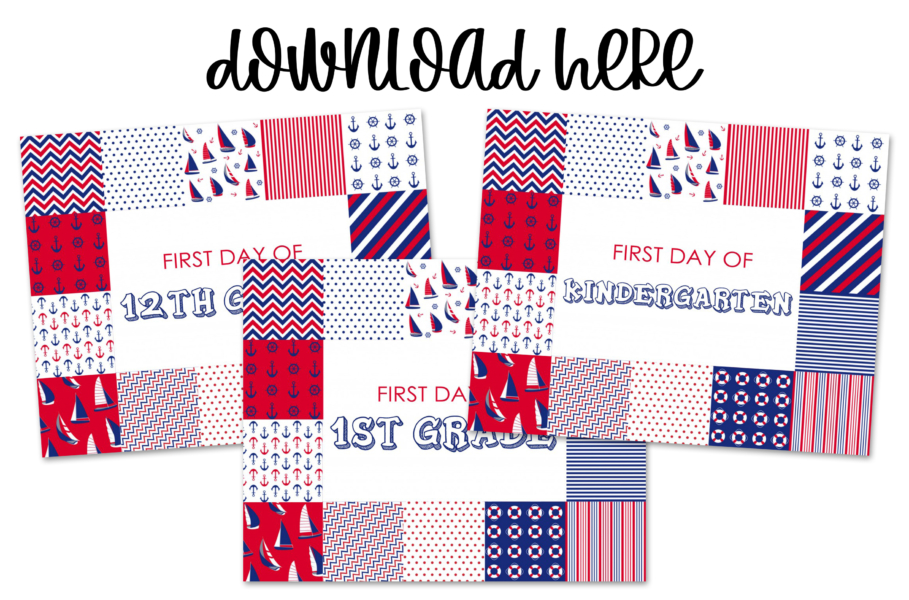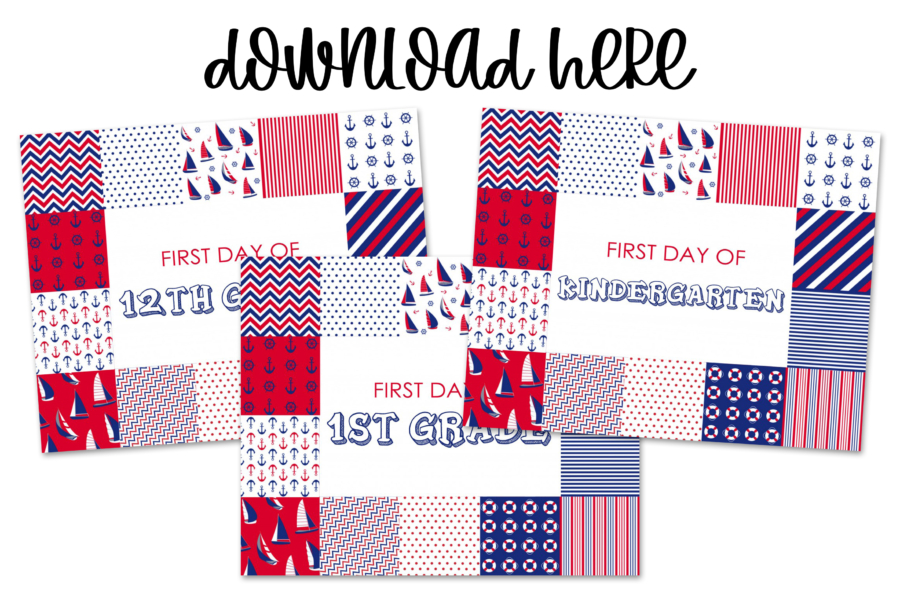 ***UPDATE: These signs are so popular, it was featured by Groupon! You can see the post here.
Here are some picture-taking tips and ideas to get the perfect shots…
To make the pictures all the more gorgeous, take the pictures during the golden hour. 1 hour after the sun comes up and 1 hour before the sun goes down. You'll get the absolute best lighting during this time. For this picture, the morning would be best obviously, but if the picture doesn't come out right in the morning before school, not to worry, you can still take it that evening.
Another idea to make your pictures perfect is to try to match your kids clothes to the colors in the printables. Is your child's favorite color pink or purple? Perhaps your son likes red and blue's. Try having one article of clothing the same as those found in the printables. This will help the pictures stand out among the rest and seem more cohesive.
You want to also consider taking photo's with your children separately and then all together. I like to have my kids show love to each other in the together pictures. That way there is physical proof when they fight that they DO love each other. 🙂
You'll want to make sure and get up 30 minutes to an hour early for school to prepare, so that you're not rushing last minute and you can time the lighting at your front door perfectly. Be sure to have all their backpack stuff and clothes laid out the night before. Have a plan of what they will eat for breakfast and don't let them get out of their pj's until after breakfast is over, so that there's no chance in soiling clothes. Just in case you have really little ones, you might want to have a backup outfit already ready "just in case" they soil the first one.
Use props in the photo. Things like their backpacks on their backs or a lunchbox near their feet creates the allusion straight away that it's a school photo.
The night before, sweep your doorway and get all spider webs down and dust off the ground. You don't want the background disturbing the picture or have it look more like a Halloween picture because there are a ton of webs in the background. You want to focus on the child.
Don't be afraid to get a couple zoomed in shots too. Pictures of just their heads holding the sign and having their personality shine through with facial expressions.
Here's what I mean…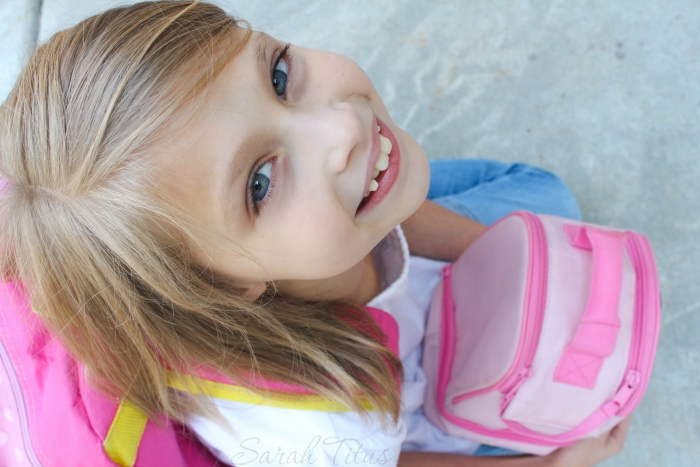 The more things you have done to prepare for those pictures, the better, as children tend to have a short attention span. If everything is already set up and ready, it makes the photo shoot much more pleasant for everyone involved and much quicker too.
The last thing you want to do is be sure to take at least 10-20 pictures of each child and then another 10-20 pictures of the kids together. The secret to good photography is taking as many shots as you can, so that you get that ONE PERFECT PICTURE. When I create recipes, it's not uncommon to take a hundred photos, literally! People wonder how I get that perfect shot, that is how. Move around the subject, getting different angles. Move higher and lower. It all makes a difference in getting that perfect picture and the perfect angle.
I hope this picture taking session can become a family tradition in your home.
If you would like to download or print any of these template sheets…
You can go here to download and print the GIRL First Day of School Printables.
You can go here to download and print the BOY First Day of School Printables.