Spicy Spaghetti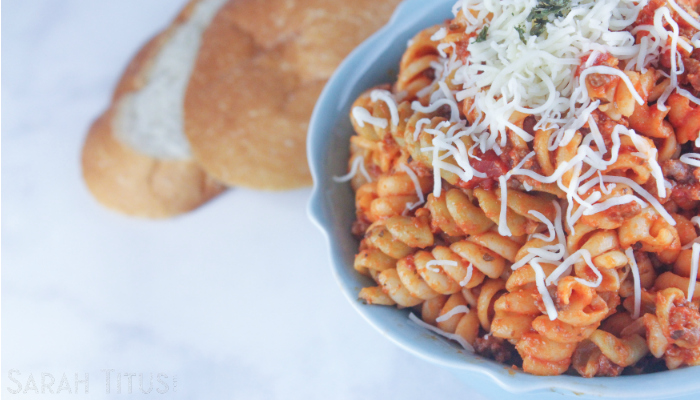 1 lb hamburger (I use lean 93/7)
¼ cup Worcestershire sauce
4- 15 oz cans of tomato sauce
1- 14.5 oz can diced tomatoes with Italian Herbs
3 tbsp butter
2 tbsp garlic powder
1 tsp minced garlic
1 tsp Oregano
1 tsp Basil
2 tsp Italian Herbs
2 tbsp Parsley
Small pinch of red pepper flakes
Salt to taste
2- 12 oz packages of Rainbow Rotini pasta
Bring water to boil and cook the pasta according to package directions.
Drain the pasta and put it back into your pot. Immediately add butter until the pasta absorbs the butter flavor and butter is completely melted. Set pasta aside.
Brown your hamburger with Worcestershire sauce.
Add tomato sauce, diced tomatoes, seasonings, and simmer for 20-30 minutes on medium-high heat.
Once the sauce is done, add your pasta to the sauce.
Top with Mozzarella or Parmesan shredded cheese.