Homestyle Peanut Butter Bars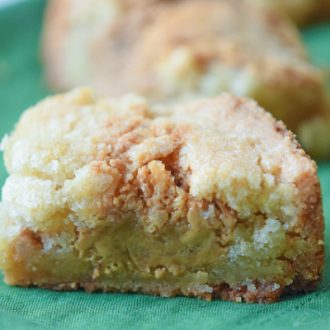 1 ½ cups sugar
1 cup all purpose flour
1 cup butter, melted
¼ cup caramel syrup
1 egg
¾ cup peanut butter
1 tsp baking soda
Preheat oven to 350°F
In a bowl, mix butter and sugar until uniform.
Add the egg and continue mixing
While stirring, slowly add in the flour, caramel syrup, and baking soda until it's well blended
Add the peanut butter and blend.
In a baking tin, pour the mixture and place it into the oven.
Bake for 25 minutes or until golden.
Add some chocolate chips to the mixture for an extra sweet flavor. Cut into squares, serve, and enjoy.
Recipe by
Sarah Titus
at https://www.sarahtitus.com/homestyle-peanut-butter-bars/