Printables are amazing!!! Not only can they be used to plan your days, keep the house clean, and organize homework assignments; but they can also be used as free printable games for your children!
Print and cut out these super cute paper dolls with clothes and let your kids have tons of FUN!!!
Cute Paper Dolls Printable Free For Kids
If you have a daughter who enjoys playing with dolls, move over Barbie, this FREE printable set will be an exciting surprise. All you have to do is download, print, and let your daughter put together the modern outfits and accessories on the body of these paper dolls!
This paper doll activity would be perfect to bring for your daughter during outings such as restaurants or "boring grown up events" and can be printed out numerous times for numerous kids!
Related: Panda I-Spy Game & Winter Fun Holiday Activity Pack
These paper doll printables would also make GREAT stocking stuffers for Christmas, or could be an adorable surprise for a friend's daughter.
Included dress ups, accessories, and clothing are:
Mermaid outfit
Crown
Lips
Bow
Heart-shaped sunglasses
Love quote
Glasses
Shoes
Sippy cup / Bottle
Pink princess dress
Star
Cactus lipstick
Headband
Watermelon
Heart toy
Teal dress
Party fizzy toy
Music note
Party hat and confetti
Magnet
LOL quote
Pacifier
Unicorn party outfit
Unicorn headband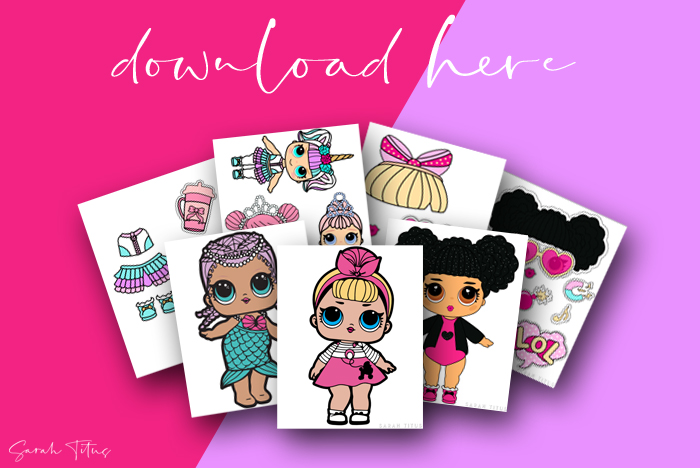 Download the cute paper dolls printable free PDF here.
Adorable Ways to Use These Printables
Want some ideas on how your kids can use these printables? Here are some suggestions…
Frame Them
If your daughter would like to have some new decorations in her bedroom, these printable templates can come in handy! Simply download and print these printables, and let your daughter customize them.
After she's done customizing them, get a beautiful black and white frame (or whatever color is your daughter's favorite), and hang it up on your daughters bedroom wall! You can have her pick her favorite doll printable to frame, or you can print, and hang them all up as a set.
Doesn't that sound adorable?!
Give Them as Birthday Cards
These cute printable dolls could also be turned into the PERFECT birthday card!
Download and print them, then write a special message on the back. This could be an adorable gift to give to your niece, or your daughter could give them to her best friends!
To make it even more fun, you could let your daughter decorate the card with some glitter to make it extra sparkly.
Speaking of birthday cards…
Slumber Party Craft
How cute would it be to print out a bunch of these and let the girls at your daughter's next slumber party go wild with them?! You can even print them smaller, get some Popsicle sticks and glue them on Popsicle sticks (a couple of these dolls are already sized smaller). 🙂
Any type of party or gathering would work. Easter party, Christmas party, slumber party, going to a friend's house, anything where there's a group of girls. They'd have SO much fun!!!