Believe it or not, these gorgeous peony's are from my garden. 😊 I happened to be outside looking at the front of my house and grabbed my camera and snapped the picture. It was SO sunny outside, the background became like white and it was perfect. Like a perfect photographic shot.
I felt so blessed to have been given such an opportunity to see God's creation. But…
The next day I went out to take more pictures and it didn't work. I couldn't get a good shot. I tried the following day, THIS time at the same hour that I had the first shot, to try to mimic it.
Still nothing…
And it made me realize that we all struggle from time to time as Christians.
Each and every one of us goes through adversity. Sometimes everything seems all perfect and awesome, but the next hour, we're cradling ourselves wondering how we're ever gonna get through all this mess and it's in those times that it's important to remember six key things…
Bloom Where You Are Planted Free Wall Art Printable
The first thing you need to do is remember where you came from.
1- Remember where you came from
While I make great money now and literally live my dream life, I grew up in extreme poverty in a single parent home with no siblings. I was abused until after I turned 18. I married a man who would end up being abusive to me in every possible way as well.
I came from a life of abuse and poverty…up until a few years ago when my ex-husband left and a year ago, when my mom passed away.
To this day, I am now completely rid of manipulation, lies, and abuse.
Remembering where you came from is important to understand that you can take any situation and STILL bloom in it.
My past doesn't define me.
Poverty doesn't define me.
Abuse doesn't define me.
GOD defines me.
HE says I'm worth something. HE says I'm special. HE loves me, though others never did.
I don't use my past as a crutch to not bloom and grow and neither should you.
2- Value what you have
Even in the most difficult of situations, I was thankful for my kids. I was thankful for Christ. And now that I have more, and have a life that I love, I'm thankful for everything I have now as well.
That means appreciating the home I have.
Appreciating the car I get to drive (debt-free).
Appreciating the friends I have in my life. The opportunities that come my way.
Choosing to focus on the good things in our lives really makes a difference more than you can realize.
3- Seek out opportunity
What CAN you change in your life to become more happy?
To stretch your comfort zone so you can grow?
Blooming doesn't happen overnight and it's best bred in trying times.
A person grows more when they're stretched.
Although uncomfortable at the time, and never something we choose, we do grow more when we are broken than when everything is hunky-dory, so don't fight the broken times. Know that you will grow and learn from it.
4- Cultivate strong relationships
You need friends.
You need someone you can talk to and really share your life with.
You need strong relationships that you can count on to be there when you need them and you need to be there for them when they need you.
Life sure sucks without strong relationships. It's something we ALL need and something we all should consistently cultivate.
5- Practice gratitude
It's not always easy to practice gratitude and in those tough times and when it's not, I have a great product that I created for myself when I was struggling with gratitude.
It's really helped me (and now my kids as well as the world) see things in a new light and see that there's more to be grateful about than you originally thought.
You can grab your copy of my Gratitude Binder here. To date, this one binder has helped (and been downloaded) over 3,250 times! It's one of my best selling items in my million dollar money making shop. People LOVE it!!!
6- Stay determined
You alone control your life (outside of the sovereignty of God). Your family, your friends, your kids, no one else can make your dreams come true FOR you. YOU have to do it.
As a person who's come from abuse, poverty, homelessness, and a myriad of other things to now living the life she dreams, I know that you can do it. I know you can achieve what you want to achieve IF you're willing to stay the course and work hard for it.
To remind you of all these beautiful things, I've created an amazing printable wall decor set for you to print and hang on your wall, in your office, in your bedroom, or even just give as a gift to someone who needs to be encouraged.
I shot the photo from a flower in my garden. It's funny too b/c these flowers are rarely in bloom. But when they are, gosh, they are absolutely STUNNING!
When you bloom, I know you'll be just as stunning! 💖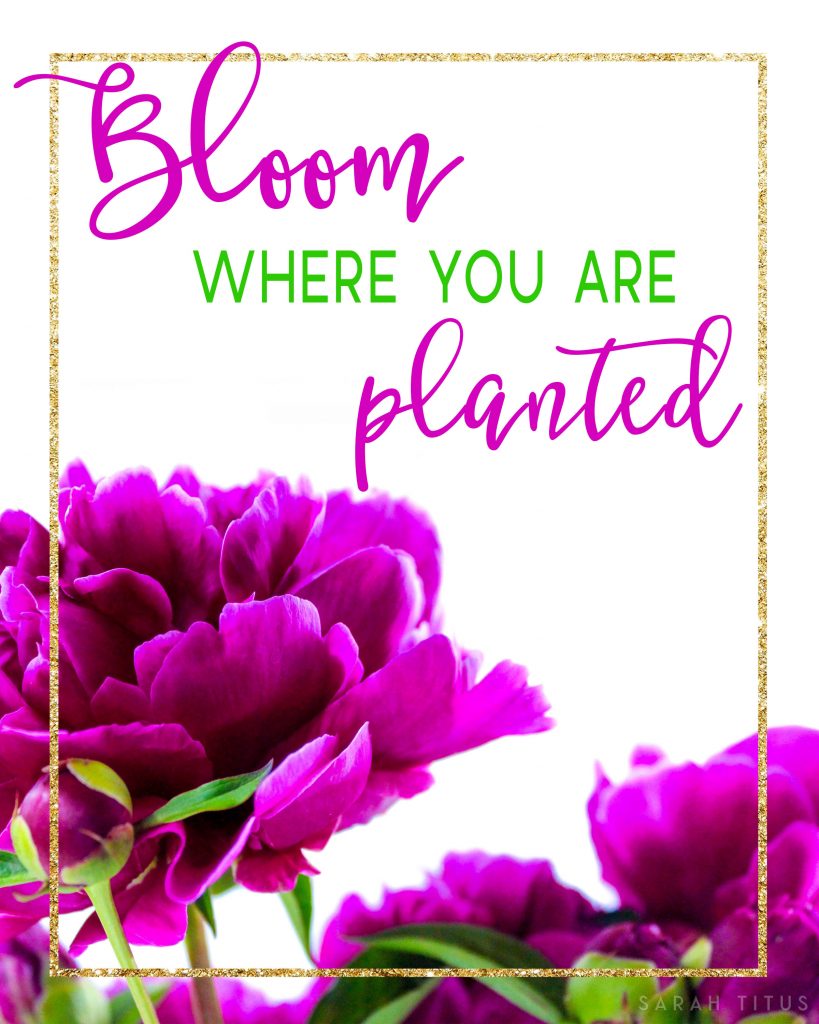 If you are looking for a free wall art printable in black and white, check out this quote print template here.