Magical fairies, hugging hippos, candy land… do I even need to say any more?! Grab your kiddos and get ready to have TONS of fun with these new, adorable artwork puzzle games templates, specifically made for your little ladies!
Adorable Artwork Puzzle Games – Printables For Girls To Enjoy
What little girl wouldn't love imagining a far away land filled with candy, or a cute little magical fairy?? These adorable designs are sure to catch your child's attention. The colors are so bright and each puzzle sheet shows a fun activity picture!
These free puzzles are sure to get their imaginations into full-drive! They will also help them learn how to use logic to work to find a solution a.k.a. "putting the pieces together!" Set them up with a play date and let the kids work together while you have some mom to mom adult hang out time. 🙂
Organize fun puzzle folders for your play date:
First, let's get your personal use puzzle game packs assembled! You only need a few things…
1 folder – they can pick their favorite color
5 clear baggies
1 clipboard
Scissors
Markers, crayons, glitter pens, stickers, etc.
Print out each jigsaw puzzle worksheet, laminate and cut into individual pieces. Place each puzzle in a different baggie and label what they are. Place all of the baggies along with the clipboard in the folder – you can take as many as you want with you!
Let your girls decorate the baggies and folders with the glitter pens, markers, and stickers!
Don't have the time or resources to laminate? That's totally fine! These work just fine without and you can print as many as you need. 🙂
Designs included:
Animals – Hugging Hippos
Magical Fairy
Candy Land
Family Picnic
Snow Fun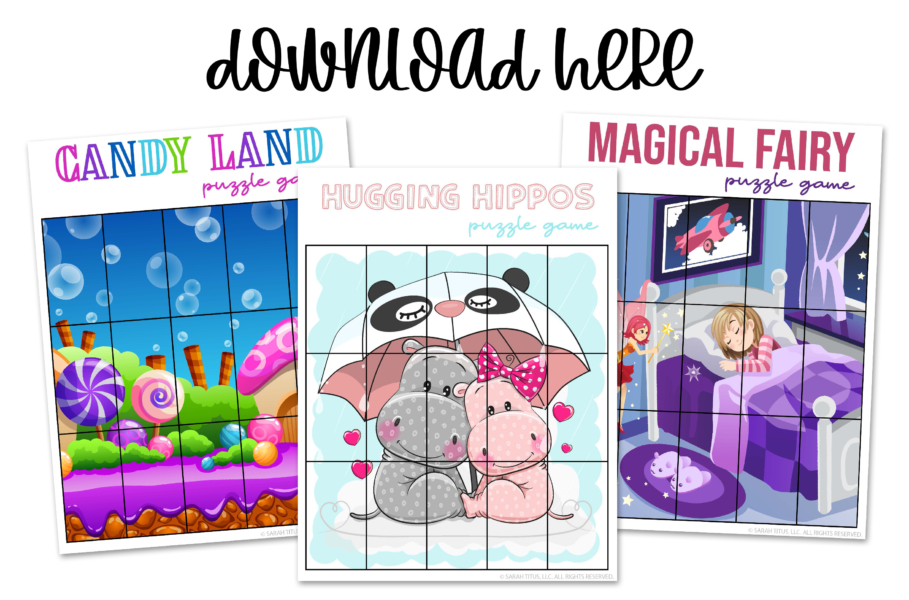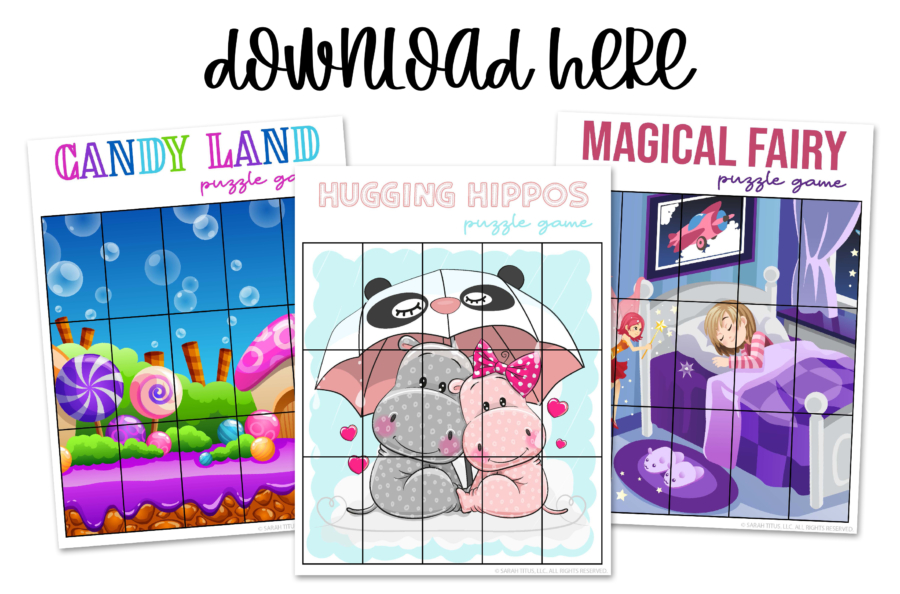 Download the adorable artwork puzzle games printable PDF here.
Fun Ways To Use These Printables:
Besides taking these puzzles on long trips or out in public with you, here are some other unique ways you can use these puzzle game printables…
Find An Activity To Coordinate With Each Puzzle
These printable games for kids are such a GREAT opportunity to set aside some quality time as a family! Each puzzle shows a different activity and can inspire you in some family fun.
For example…
Candy land puzzle – Head to the store (in person or online) and let each child pick out their favorite candy! Once you get back home, let them have 1 piece of candy for each puzzle piece they put back together.
Family picnic puzzle – pack up a lunch and have a picnic outside with this puzzle in tow! Spend some time in the warm sunshine together.
You may have to get a little creative here – for the snow fun puzzle, maybe there's no snow where you are! That's okay, just throw on all your warm clothes and "sled" down the stairs on mattresses! It just takes a little inspiration to get you started. 🙂
Have A Printable Games Puzzle Party Sleepover
These would make the PERFECT fun activity when hosting a sleepover for your daughter's friends!
Grab some snacks (maybe themed cookies?) and set out each puzzle for them to work through! If you have 5 girls, they can each do their own OR if you have more/less, encourage them to solve them all together!
Use The Back Of The Puzzles To Write Stories
After your child has mastered putting these puzzles together, it's time to add in a new step! Print out more puzzles and before you cut them up, let your child write a cute little rhyme or made-up story about each puzzle!
Now cut them into pieces and have them put the story together, then read it out loud! You are sure to have LOTS of fun and laughs hearing what they come up with. 🙂
This helps them practice their handwriting, storytelling while boosting their imagination to comes up with different ideas. You can even tape them all together when you're done to keep as a fun memory!
No matter the occasion, I promise your girls will love going through these puzzles, time and time again! 🙂