I'm so excited to show you this sweet and fun printable today!
These make great activities for you to do with your kids and will probably bring some giggles too!
Take a look at this adorable animal pun Valentine cards to color printable!
Adorable Animal Pun Valentines Cards To Color Printable
Get Valentines Day ready with these adorable animal pun valentines to color! Your kids will love coloring these in and then can give them to their friends (or give them out uncolored so their friends can color)!
These little cards have the most adorable little puns on them and cute animal designs. They are perfect for boys and girls, young and old… they are for everyone. 🙂
With puns like:
It's so MICE to know you
I like you BAAAAAD
ANT you just see us together
You are absolutely PURR-FECT
I ain't LION, you're the best
OWL love you forever
Hope you have a HOPPIN' day
There is no OTTER than you
Love at first FLIGHT
I can't BEAR to be without you
You're a FOX
Some BUNNY likes you
I WHALE always love you
I SQUEAL-Y like you
We BEE-LONG together
You're PAWS-ITIVELY awesome
Everyone is sure to find some they absolutely adore!
Use for class valentines or any big group, sweet notes for your kids and even a fun rainy day activity!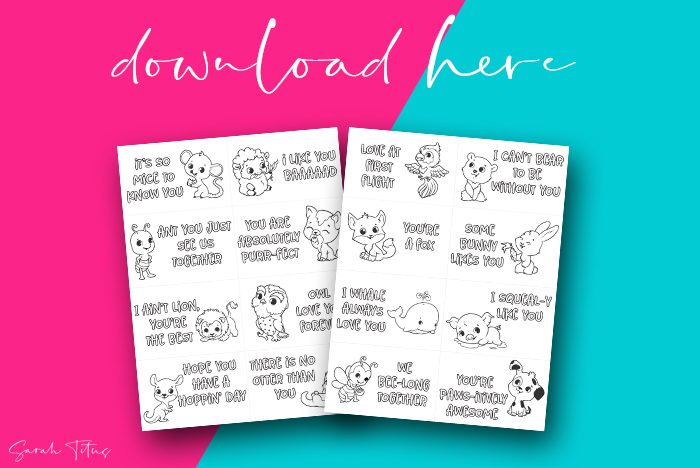 Download the animal puns printable Valentines day cards black and white to color here.
Different Ways To Use These Printable Cards Templates:
There are so many fun ways to use these printable Valentines day cards! Here are some ideas…
Use As A Rainy Day Activity
Has it been pouring for days where you are? Running out of fun games and activities for the kids to play??
Bring out these fun printable valentines day cards for kids!!
The punny phrases will make for lots of laughs, and your kids can spend as much time as they need coloring all of these in! You all can even make up your own puns and see what everyone comes up with. 🙂
These aren't only great for rainy days, but school breaks, long weekends, snow days, etc.
Use For Mass Group Valentine's
These are fantastic to use for you when you need lots of Valentine's at once!
For example, use for classroom parties, pre-school Valentine's, Sunday School classes, girl scout groups, and any other large gathering your kids have coming up. 🙂
These can be printed as many times as you need and they are FREE, so you'll be saving some cash too! All the kids you give them too will get some cute and "punny" Valentine cards, as well as have the added fun of coloring them!
Give To Kids When Sick Or Injured
It absolutely breaks a mom's heart when our kiddos are sick or injured. 🙁 These could be a great way to cheer up our kiddos, no matter what has got them down.
The silly puns and cute designs are sure to make them laugh. The added aspect of coloring them in, offers a fun activity to do while they are stuck at home until they heal!
These cute and free printables sheets can be brought out when our kids are sick, hurt, sad, upset or maybe just need a little pick me up! You can choose to color with them and turn this maybe not so fun situation into some good. 🙂
These free and fun colorable valentine cards will be a must on your holiday list this year! Happy Valentine's Day!