Now that your Shopify store is set up, you'll want to know how to go about making sales, am I right?!
The great thing about having a Shopify store is that there are a bazillion and one ways in which to make those sales.
Today, I'm going to be talking about the 25 best ways to market your Shopify store.
25 Best Ways to Market Your Shopify Store
1) Put a link on your blog
The easiest way to sell something in your Shopify store is to utilize what you already have going on.
For me, I had a blog prior to opening my Shopify store.
I simply put a link to my shop in my navigation bar and people started coming over visiting my shop. It was bare bones back then in my store. I only had one product, but people WERE buying it.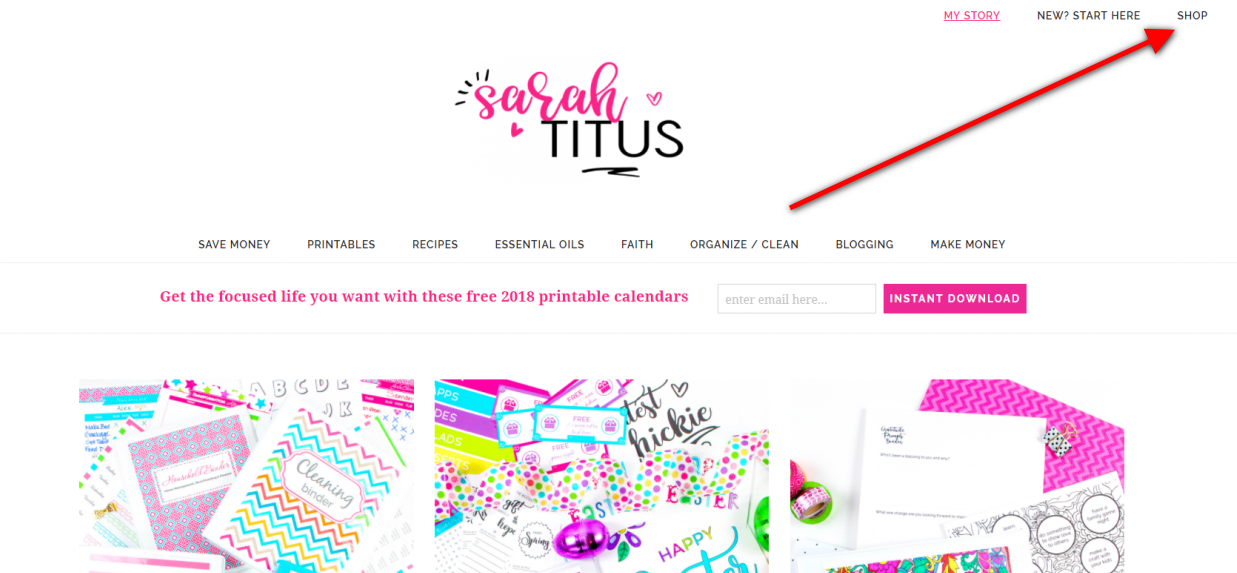 So…number one. If you have a blog or website already, put a link in there in your navigation bar. This will drive traffic to your store from your blog.
2) Put a link on social media
Along with your blog, if you have any social media at all, put links to your products in there.
I wrote a whole post about how to promote your store on Instagram. You can find that article here.
I also wrote an entire article on how to promote your storeon Pinterest. You can find that article here.
If you have a Facebook account, put it in there. If you're in a Facebook group and it's allowed, put your link in there. Tell them what you're doing, what you're selling, what you're offering. Usually a post about something free is valuable and they like to see free stuff.
3) Network Market
Network marketing is my NUMBER ONE favorite way to not only promote my blog, but also my store.
People ask me what I do, I tell them. I sell printables. I do graphic design. I teach blogging. I make money from home. I'm a blogger….
Whatever you tell them you do, you can include your store in that story.
Keep some business cards to hand out when needed that have your Shopify store link on them.
4) Create a video
Can you create a video of your product? Can you go to Fiverr and hire someone to talk about the product you're selling?
Make a video of some sort and upload it to YouTube.
Be sure to put in a great description with the link of where they can get the item. Also, SEO the video description and make a great title.
Creating videos for YouTube is a sure-fire way to lead to sales. In my Medical Binder, I have a video embedded right into the description. It's one of my best selling items too!
5) Create a blog post
With my most popular items, I like to create blog posts. This helps me promote the posts on Pinterest as well as to my blog audience.
You can easily create a blog post to highlight your product and create several posts for each product using different methods. For example, that's exactly what I'm doing now. I'm creating a blog post, 25 Best Ways to Market Your Shopify Store, so that I can promote my entire Shopify series.
Within each post that people read, there are links to show examples all over (where applicable) to my products! Pretty sneaky, huh.
I'm TEACHING you how to sell stuff in your Shopify store, all the while, I'm using real-life examples to teach and highlight my OWN Shopify store products. You see it, you like it, you buy it.
Get creative when creating blog posts. You can make them about anything to highlight your products!
6) Create a roundup
I like to create roundups where I can highlight my own Shopify store products.
For example, here's a roundup I created that is titled, The Best Free Printable Cleaning Checklists.
Of course, within that post, the first picture you'll see is of my 33 page Cleaning Binder, something they can get FREE with email sign up. This gets them on my email list, so that I can continue to give them free stuff, get them hooked, and then sell to them later on down the road.
7) SEO your products
I wrote a whole post about SEO'ing your products and if you do SEO your products, you'll be getting FREE Google traffic which converts to sales. Sales that don't cost you a penny to drive to yourself!
As I'm writing this, last month, I got 568 traffics from Google alone to my Shopify store. That's 568 more people to look at my stuff and buy.
8) Use analytics
If you're on the $79/month Shopify plan, which I am, you'll see all your sales broken out by products. This is VALUABLE information. Using it, you can know exactly what to create more or and what to create less of.
The more you create consistently good stuff, the more sales and traffic you'll get. It's really that simple.
9) Be mobile friendly
If you're not mobile friendly, you won't get a lot of sales, since so many customers are mobile now. Check out your Shopify store site on various different mobile devices.
If you want to test your Shopify site on different mobile devices that you don't personally have in hand, use this site here to do so. It's great to use for screenshot tutorials too! 🙂
10) Get product reviews
After selling in my Shopify store for so long and really working hard to get product reviews, I can tell you with full confidence, this is exactly how I get so many sales. Product reviews WORK.
They sell your products for you, and I've found that it's EASIER to get product reviews in my Shopify store than on Creative Market (where I also sell) and on Amazon when I sold on that platform.
11) Write a guest post
You want to be writing guest posts for others in your niche on a continual basis. I like to shoot for one guest post a month.
Of course you want to provide the best, most high-quality content, but also, it's a great opportunity to add in a link to your store.
12) Tap into your email list
If you have some sort of email list already set up, tell them about your products. Offer them something free to get them to your Shopify store, so they have a reason to visit and can see all the great things you have to offer in your store.
Give out a discount code. Really treat them well. It's not just about making a sale, but providing great value to the world and serving others through your own talents, strengths, and skills.
13) Use Facebook ads
This is a great brand strategy to get people to your Shopify store to buy your products.
There are even apps on Shopify that you can use reviews for those Facebook ads as well.
This is something I haven't yet tried, though, I am looking for a Facebook expert to hire to run ads for me.
If you want to set up the ads yourself, here's a great guide on how to do it.
14) Promote on Google AdWords
This is also something I've never tried before, but something I really want to get into later on. You basically buy advertisement space on Google to show your products.
To start advertising, go here and start small to really see what works and what doesn't.
15) Buy banner ads on your peers sites
Sometimes you can email bloggers in your niche and ask them how much a sidebar ad would cost or how much it would cost to run a link in their email newsletter. You'd be surprised how affordable it can be and how well it works.
When I first started up my SarahTitus.com blog, I ran an ad on another blogger's site and she only charged me $12/month. I ran it for 2-3 months and while the traffic wasn't substantial, it was getting my name out there to her audience in a real and effective way.
You can do that same thing with your Shopify store.
16) Put door hangers on doors
Let me ask you a question. When you get one of those door hangers on your door, what's the first thing you do?
You throw it away right…it's not worth your time, it's annoying, whatever. But before you throw it away, you glance at it, am I right?!
And when you glance at it, if it's something you're interested in, you may not throw it away.
Now, what do you do when you see an ad online…you zone it out completely, right? You do NOT even glance at it.
Here's the thing…the most effective advertising that is cost-effective is putting door hangers on doors. All you do is design something, offer a large discount code and have them printed at Staples or VistaPrint. Then, hire some teenager or someone you know for a small fee ($6-$10/hour) to hang them on random people's doors.
Just be sure before you do this, to check and see if there are permits you need for the town you live in. Be sure to make everything legal.
17) Distribute flyers
Same with putting door hangers on doors, you can also put flyers on car windshields at supermarkets.
One great way to separate yourself from the pack is to fold up your flyer and put it in an envelope. Put a pretty bow on the envelope. People will think it's a sweet gesture.
18) Sponsor an event
Is your son on a baseball team?
Does the PTA at your kids school need funds?
Is there a craft fair coming up with booths that need sponsors?
There are events available locally that sell advertising space. You can sponsor them and get your Shopify store out there!
19) Tell your friends and family
It's really not as hard as you think to sell products in your Shopify store. Sometimes, it can be as close as your own back yard!
Tell your friends and family what you do. Ask them if they know anyone who could use the products you sell.
For me, oftentimes it's just about asking them if they want a free binder that will help them organize their home.
20) Participate in forums and on other blog comments
If you're out there online, whether in a forum or on another blog, you can just be talking to people and sharing what you do or about your store where applicable.
Obviously, you don't want to spam something, but this goes along with connecting with others.
Simply hang out where your ideal customers hang out.
21) Post on Craigslist
If you have a store where you sell something that can go in a category on Craigslist, the current rules do permit that.
So, for someone selling digital printables, you could easily say something like, 450 page printable set for $50. Print out everything and meet them and collect your cash.
In your ad, you could say something like, wanna save time and money? Print from your own home and save money by purchasing here and then link it to your Shopify store.
More often than not, they will want to purchase online to save money, gas, and time, and you just got your sale.
22) Give out discount codes
Giving out discount codes everywhere can be a great thing. It can attract new customers as well as repeat customers.
Just make sure that the discount code is a good one and that it's extremely relevant in your marketing efforts.
Don't do something like free shipping because most customers already expect free shipping.
A couple ideas of fun discounts to use are:
Customer appreciation code
Holiday sales code
First purchasers get a code
$10 off $10 code
Take a look around at what brick and mortar stores do. JC Penney for example, mails out $10 off $10 coupons. Bed, Bath, and Beyond mails out 20% off coupons. Follow their lead.
You can also submit coupon codes on the following websites:
23) Utilize affiliate marketing
I used to use an affiliate marketing app, LeadDyno, for 8 months and hated the app.
It never worked good and unfortunately, over half of my affiliates broke the rules.
I ended up having to shut down the program, however, maybe it would work better for you.
I would go with a different app if you set up an affiliate program though. If it's successful, it can be a very good way to get your Shopify store products out there.
24) Create a gift guide
Gift guides, especially around the holidays, can be extremely effective in selling your products.
The most successful gift guide I ever created to date is my 10 Best Gifts for Men Under $30 gift guide. It currently has 32,993 shares on it. People share it and you reap the benefits.
It's a great strategy to market your store, depending on what you sell. Just be sure to make the gift guide based on whatever it is that you sell and I personally wouldn't add more than 10%-20% of your own products in the gift guide.
25) Add a pop up Facebook group
For some items that are bigger ticket items, you can include a pop up Facebook group entry or a secret Facebook group entry with purchase.
This allows your customers to ask questions on the product and be surrounded by like-minded folks.
More people would buy a product from you if it included something special and unique like this.