What's that noise? It's the sound of church bells ringing as the happy newlywed couple exits the church!
Make sure you get "wedding season ready" and save some time and money with these adorable printable wedding favor gift boxes! 🙂
15 Elegant Printable Wedding Favor Gift Boxes
Sometimes when we think of weddings, especially your own, it can bring a little stress, am I right? You've got to figure out the venue, the number of guests, caterer, photographer…the list can seem endless! Whether you are getting married or know of someone who is, I created these beautiful (and did I mention FREE) party favor box printables to help ease a little bit of that stress. 🙂
These wedding favor box printables come in 15 different colors, so you are sure to find something to match your decor and can also mix and match to have multiple colors! The design is elegant and simple – no distracting from your decor but beautiful enough to stand on its own and give people something to talk about. 😉
Simply print out as many as you need, cut, and fold along the lines. These are a cute way to add a little more decor to your guest tables and saves you money on buying something to put your party favors in. Each page is one box, so if you have 100 guests for your wedding, print that same amount.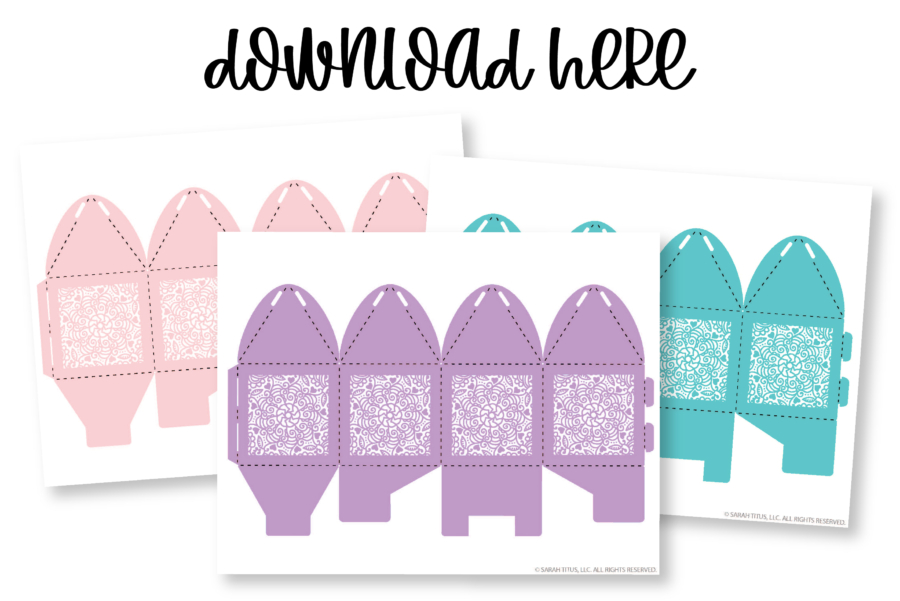 Creative Ways To Use These Printables
Using these printable party favor boxes for weddings is definitely a no brainer, but here are a few other creative ways to use these within weddings and outside of them too!
Wedding Reception Favors
The most obvious way is to use these party favor box printables as…well, party favor box printables! They are free which we'll save you money, a HUGE factor when planning a wedding, and super easy to print and fold up. Just be sure when you are printing them to use a really THICK cardstock paper to make them more "professional".
The size is great to put mints in, nuts, small items, or whatever it is you decide to use as party favors.
These would also make great gifts for someone you may know who is getting married to help them save money and check one thing off of their list. 🙂
Wedding Party Gifts
Looking for a cute way to present your gifts to your fellow bridesmaids/groomsmen? Use these boxes for their gifts as well! Save time and money on going out to get gift bags, and instead give them these cute personalized boxes with their gift inside. 🙂
Here are some small gift ideas for your bridal/groom party:
Jewelry – necklaces, bracelets, earrings, etc.
Giftcards
Personalized pins or charms
Yummy treats
These are just some small gifts that will fit in these boxes, but feel free to add whatever you need to with those as cute accessories.
Special Occasion Gift Boxes
Looking outside of weddings, these boxes are for everyone! Use these for birthday gifts (or at birthday parties), anniversary presents, Christmas, or any other special occasion you may have coming up. I made these with different color options so you aren't just limited to one style or theme. You can even make cute crafts with your kids using these fun boxes.
I hope you enjoy these fun wedding party favor boxes and be sure to share them with anyone you know who is getting married soon! 🙂