Welcome to the Free Medical Binder Printables series! This year, I've lost 65 pounds! You read that right….65 pounds.
Over the past 5 years, I've been working on one major habit in my life in an effort to become healthier. I started using essential oils, creating my own essential oil products, gave up soda completely, gave up fast food completely, started drinking water, and several other things. But this year, I noticed something really crazy happen, completely on accident!
I gave up the flavor enhancers you put in water and started drinking Green Tea instead. Little by little, I started to notice I was losing weight! Since I changed nothing else in my diet, nor did I start exercising, really that's the only thing it could have been.
Next, in my effort to be healthier, I want to add in exercising, because I'll be honest, I do not currently exercise and I know I should!
Because I've been taking my health a lot more serious, I created these fantastic free printables for us ALL to use to improve our health and be more organized….because you know me…I'm an organizational FREAK! No seriously! I totally am.
This Medical Binder will help you not only get organized, but take better care of your health as you PAY ATTENTION to the things that we sometimes forget to think about!
There are different sizes of spines to fit whatever binder size you have on hand…no need to go out and buy another binder. Just use one you already have and you're good to go.
If you do need a binder, here are the appropriate ones on Amazon: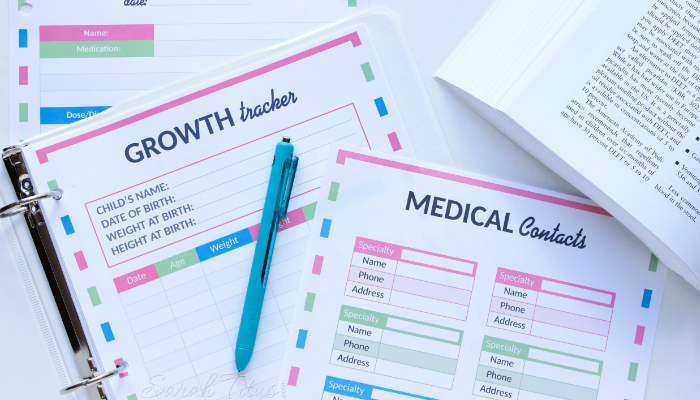 Medical Binder
Just click the printables below that you'd like to print and be sure to bookmark this page, so you have easy access to the whole Medical Binder Free Printables set anytime you want to grab more sheets!
**This series is going on NOW! Woot, woot! One new link will open up each day in the month of January, 2017. If you'd like the entire set of free printables now (or don't want to click over to each post individually, you can access direct links to all the PDF's instantly…HERE!)
Water Tracker
Vitamin Intake
Sleeping Log
Journal
Goals & Rewards
Monthly Overview
Me Time Tracker
Growth Tracker
Child Notes
All of this coming in January 2017!